June 2016: The first issue of 2016 is up! Please scroll down for access. Our previous issues are available here.
NMS welcomes submissions. Submission Guidelines are available here.
NMS has a bulletin to fill you in while we are hard at work producing new issues! Click here for access to our New Male Studies Bulletin.
Website design and web hosting provided by the Australian Institute of Male Health and Studies.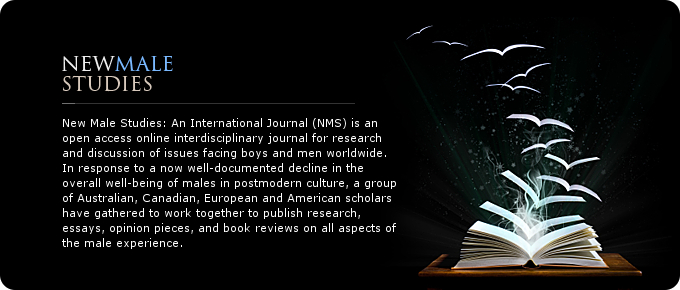 Vol 5, No 1 (2016)
Table of Contents
Front Matter
Articles
| | | |
| --- | --- | --- |
| | Leiya E. Lemkey, Clive Fletchder, John A. Barry | |
| | | |
| --- | --- | --- |
| | Megalla McCarthy, Noel Richardson, Aoife Osborne, Nicholas Clarke | |
| | | |
| --- | --- | --- |
| | Beau James Diehl, Timothy Baghurst | |
| | | |
| --- | --- | --- |
| | Gary M. Misan, Chloe Oosterbroek | |
Brief Contribution
Photo Feature
Book Reviews
Complete Issue in PDF